---
Santea Mix
An assorted mix of Kras Waffers and biscuits, perfect for tea parties and after dinner
Available in: 450g
---
Petit Beurre
Petit Beurre is a product with the long tradition and is one of the carriers of Kraš's image. Butter, harmoniously combined with natural ingredients, honey and milk, makes this product unique and of high nutritional value. It is a tasty and light meal, appropriate for any age
Available in: 480g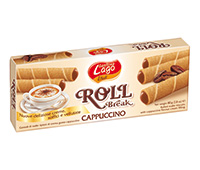 ---
Elledi Roll Break
Classic Italian fine pastry products: light and crispy puff pastry with butter, sugared or glazed with apricot jam
Available in: 135g
---
Elledi Amaretto
Typical Italian Amaretto biscuit made with sugar, apricot kernels (20%) and egg white
Available in: 200g
---
Elledi Savoiardi
Original Lady Finger biscuit with a spongy and friable texture. Prepared with 26% of pasteurized fresh whole eggs
Available in: 200g and 400g
---
Elledi Party Wafers
Fragrance and goodness are "cubed" in these wafer packs. Tasty bite size wafers filled with a velvety cream.
Available Variants: Cocoa and Hazelnut
Available in: 125g and 250g
---
Elledi Puff Pastry
Classic Italian fine pastry products: light and crispy puff pastry with butter, sugared or glazed with apricot jam
Available in: 135g
---
Elledi Poker Wafers
A sweet treat to enjoy anytime! Classic Delicious wafers available in 2 flavours: cocoa and hazelnut. With 75% cream!
Available Variants: Cocoa and Hazelnut
Available in: 150g
---
Additional Biscuits and Wafers Available
Tea Ring Biscuits, Pfeffernuesse, Crostoli, Biscotti, Cake Wafers.  Download our full product list below or contact us